As I explained on Caveys in France page and shown in Orne page, the Orne' branch of Caveys where "escuyer-seigneur de Fontenil" ("Squire-Lord of Fontenil"). In 1973, my parents went through Orne department researching for this manor.
The Fontenil is at Louvière en Auge at about 1.5 kilometers (0.9 miles) north from Trun (see the map on Orne Page). According to a document my father saw during this first travel, the Fontenil was build during the XIII century and modified during XVI and XVII centuries.
In "Le pays d'Argentan - 1961" (The country of Argentan - 1961), Xavier Rousseau writes that the manor was named "Fontenil" because it was near a "Fontaine" (spring) which becomes a small river : "the Radon". He adds that the Fontenil was the residence of the Caveys during XVII and XVIII centuries. Farther he said that the Fontenil has never been a fiefdom. That is a good reason to think that Caveys where nobles from time immemorial.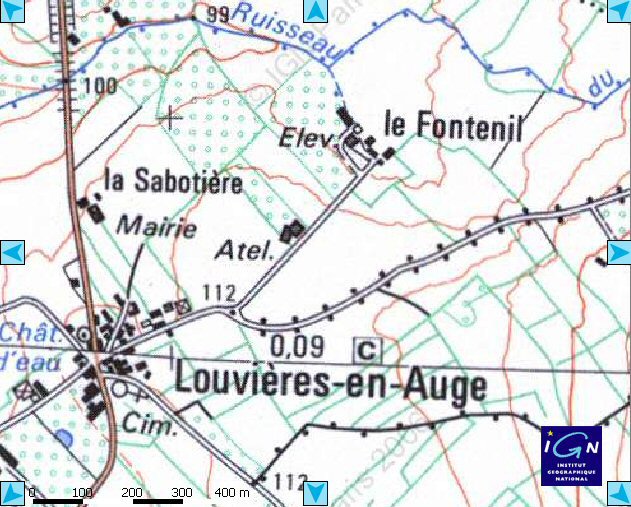 When my parents visited that place in 1982, it was just bought and restored by Mr. Marcel Platevoet.
[Note of the editor] : since I wrote this text, I have received mail from a unknown French who told me that his Grandfather and his mother lived there from 1962 to 1982. It did not give his name but has used a nickname : Biniou Hurlant (standing for "Howling Bagpipe").
Here are pictures Mr. Platevoet tooks in 1973, before he decides to restore the manor :
And here are the pictures my father took in 1982 :
| | | |
| --- | --- | --- |
| | | |
| Front - August, 28th 1982 | | Back - August, 28th 1982 |
As you can see, Caveys from Orne where nobles but the where closer to the gentry than the nobility...
Note : there is another Chateau du Fontenil in Saint-Sulpice-sur-Risle in the Orne but this one never knew a Cavey. Neither has Chateau Fontenil in Saillans in the Bordeaux region, which belongs to a Bordeaux wine producer known as Fronsac. There is another place called Fontenil in the Queyras used as a vacation cottage by the city of Tremblay-en-France.