In 1696, King Louis XIV, needed some money to pay for the past few wars he had declared against many other European countries. In order to collect some duties, he decided that everyone who had armorial bearings, and wanted to keep them, should register them and ... pay for it (as you can see, our current Governments have not yet hit on the idea of doing such a thing...).
116,914 persons, of which 80,000 where not nobles, 2,171 villages, 934 towns and 28 generalities (that is administrations including several counties) where registered. The arms and titles are kept by the "Bibliothèque Nationale de France François Mitterrand" in Paris in 70 handwritten folios. 35 are a description of the arms and 35 show the picture of colored armorial bearings.
Below is the copy of the Claude Cavey (also known as Claude de Cavey) armorial bearings act, registered 19th July 1697.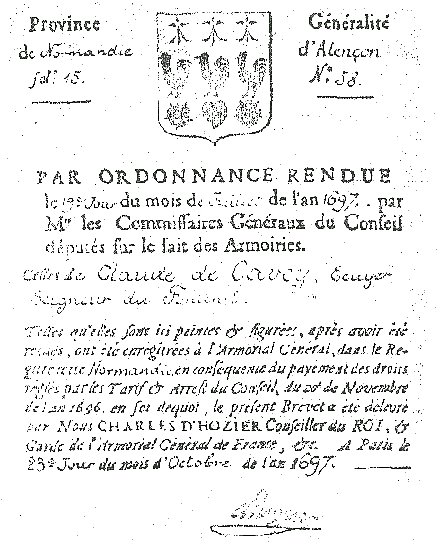 The text is in old French (note that the letter 's', when not at the end of a word, looks like the letter 'f') and should be approximately translated like this :

Left top corner : Province of Normandy, Folio N° 15

Right top corner : Generality of Alençon , N° 58

In the middle : a drawing of the arms of Claude (de) Cavey. The document I have in hand is a photocopy, and is therefore black and white, but we have a description of them.

The text below the arms can be translated (word for word) like this :
"By ordinance given the 19th day of the month of July of the year 1697, by the representatives of the Council of Arms, those of Claude de Cavey, squire-lord of Fontenil, as they are here drawn and figured, after having been received, have been registered at the Armorial General into the register of Normandy, as a consequence of the payment of fees according to the tarif and decrees of the Council dated of the 20th of November 1696. On the strength of what, the present warrant was delivered by us, CHARLES D'HOZIER, King Counsellor, and Keeper of the Armorial General de France. At Paris, the 23th day of the month of October of the year 1697. Signed D'HOZIER".

As told in Caveys in France, the armorial bearings of Claude de Cavey where registered to the "General Armorial of France" the 19th of July 1697. They are described like this (in ancient French and armorial vocabulary, untranslatable in English) :
"D'argent à trois mouchetures d'hermine en chef, trois coqs de gueule en face et un coeur acosté de deux roses aussi de gueule en pointe".
By an other hand, Chris Cavey has discovered the coat of arms of a Cavey. Unfortunately, we don't have any piece of information about them. They can be the arms decribed in the the Rietstap and Rolland versions of Armorial Général (see below).
The two red roses, on the Claude de Cavey version, intrigue the armorial' specialists because they are usually supposed to be in relation with the Tudors 'Family who have been sovereigns of Scotland (remembers "the two-roses war" , 1460-1485 , in England).
So what ? We can assume that the coat of arms found by Chris Cavey are a those described in the three volume set of V. & H. V. Rolland's "Illustrations to the Armorial General by J. -B. Rietstap" (see Ronald D. Cavey on the debate page), they have been originally published Paris, France, 1861 that is two hundred years after those described by d'Hozier. These arms are described like this : "Cavey - Normandie. D'argent à trois coqs de sable crêtés, becqués, barbés et membrés de gueule; au chef du premier, chargé de trois mouchetures d'hermine au second."
Nevertheless, the Rolland-Reistap' books are unofficials publications while the Armorial of d'Hozier has been made per Louis XIV request.
Anyway, keep in mind that :
Having armorials bearings does not necessarily denote a noble person. As written above, 80,000 non-nobles persons registered theirs arms in 1696 / 1697.
Having a name with a particle does not denote a noble person. Claude de Cavey was also known as Claude-Philippe Cavey (see : Caveys in Belgium & India and Caveys in France)
But, having the notation squire-lord, denotes without any doubt, a noble person since time immemorial (that means that they have always been known as nobles and they did not have to prove it). This is confirmed by the fact that the surname came from Latin which denote a very ancient name and is rare in France (most of the surnames where given after the XIVth century).
[Notes of the editor]
More about Heraldy :
Grand-Armorial.Net. This site has a useful glossary both in French and English.
Heraldica (English)
Studies in Heraldry
Pimbley's Dictionary of Heraldry
http://perso.orange.fr/earlyblazon/general/sources.htm
What the hell is that ?
http://www.houseofnames.com/xq/asp.familycrest_details/s.Cavey/Cavey_family_Crest/Cavey_coat_of_arms/qx/Cavey.htm
(Note that this site is made to sold coats of arms. Not sure it is a reliable site).
---